Friday 15th March was the 200th anniversary of physician John Snow's birth (1831-1858). Although better known in his day for his work on ether and chloroform as anaesthesia (including administering them to Queen Victoria during the birth of her last two children), he is best known today as one of the fathers of modern epidemiology, tracing and mapping a cholera outbreak in 1854 to a pump on Broad(wick) Street in Soho. So there has been a flurry of internet excitement in urban and epidemiological circles around the 200th anniversary of John Snow's birth – The Guardian even describing him as a 'data journalist' (although given his fight to get his work recognised as science I'm not sure he'd have found that title useful!). Two weeks later, I have finally got around to seeing the London School of Hygiene and Tropical Medicine's exhibition 'Cartographies of Life and Death: John Snow & Disease Mapping'.
For the most part, the exhibition places the power of mapping and cartography as an innovation central to thinking about the recording of death and disease. 1854 was also the year that the Crimean War broke out, where Florence Nightingale was to assiduously collect and record of data on cleanliness and sanitation in hospitals using 'coxcomb' diagrams. The combination of detective work and powerful visual narratives in the shape of maps and mapping means the topic fits well with contemporary interests in data visualisation, the potential of health and medical records as datasets and in particular for 'big data' in drawing out correlations between types of ill health and other factors, recording disease incidence and modelling its progression.
Just as contemporary developments in computing power are allowing new manipulations of very large data sets, mid-19th century developments in printing and map making had allowed Snow to plot, record and then publish his work in map, rather than simply tabular form as 'On the Mode of Communication of Cholera' the following year in 1855. In 2013 both printed and mobile (phone) maps now allow one to walk around the streets of Soho itself, and get a sense of the visual clarity that maps provide, but also as one crosses roads and dodges boisterous late Saturday afternoon pedestrians, to get a sense of the everyday melee that the data was distilled out of. The exhibition brought these kinds of data visualisations up to date with a screen showing Google Earth updated with postings to the Pro-MED  (Program for Monitoring Emerging Diseases) email list.
It's hard to disagree with Beth Skwarecki list on the PLOS Public Health Perspectives blog of the top three things she things she thinks we're still learning from John Snow's work:
That data visualisations can make powerful arguments for change,
that microbes have been under our noses all the time
and that sanitation and clean water are still (no brackets needed!) really important.
But other striking things emerged from the exhibition and maps too. On the handbill version of the exhibition map, sites in contemporary Soho are marked with quotes from Snow's 'On the Mode of Communication of Cholera'. We learn that residents of Soho themselves had their suspicions about different water sources:
"37 Broad Street. Mr Eley, the percussion-cap manufacturer of 37 Broad Street informed me that he had long noticed that the water became offensive, both to smell and taste, after it had been kept about two days. This as I noticed before, is a character of water contaminated with sewage. Another person had noticed for months that a film formed on the surface of the water when it had been kept a few hours."
Elsewhere
"Brewery on Broad Street. There is a brewery on Broad Street, near to the pump, an on perceiving that no brewer's men were registered as having died of cholera, I called on Mr Hugguns, the proprietor […] the men were allowed a certain quantity of malt liquor, and Mr Hugguns believed they do not drink water at all; and he is quite certain that the workmen never obtained the water from the pump in the street. There is a deep well in the brewery, in addition to the New River Water."
Similarly, there was a Workhouse on Poland Street, which with its large number of (by definition) poor residents living in close conditions might be expected to have had a large number of deaths, saw only 5 deaths out of 535 inmates. But the workhouse had its own pump on the premises, and received piped water from the Grand Junction Water work, not the Broad Street pump. The dept of the pump in both of these cases is significant, placing it below the level of a shallow bore pump that drew in water contaminated by cesspits and drains. Faecal contamination, even of piped water remains a significant problem in rapidly urbanising cities where functioning sewerage systems may be hard to come by or entangled with water distribution pipes owing to the order in which they are laid.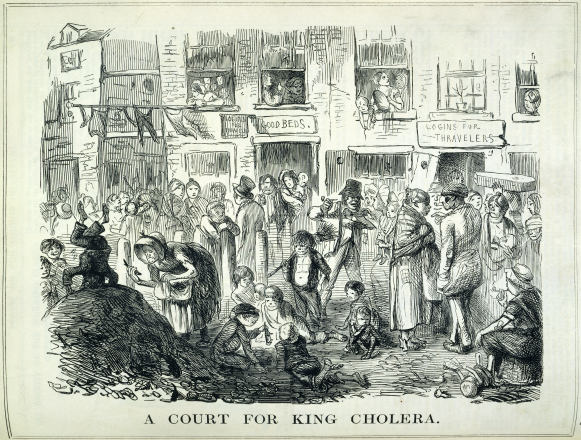 Nonetheless, the Broad Street pump water had its own attractions, particularly its taste and coolness at the end of a long hot summer.
"The pump-water was also sold in various little shops, with a teaspoonful of effervescing powder in it, under the name of sherbert; and it may have been distributed in other ways which I am unacquainted with."
Although the shorthand that a map provides as a visualisation of data is powerful enough a technical and rhetorical form to eventually challenge and displace the miasma explanation for cholera (no surprise that Edward Tufte is a fan of Snow's work) to that of germ theory, it is also clear that many of these insights would not have been available to Snow without spending consdierable time walking the streets and talking to people. It was not only proximity to the Broad Street pump that lead people to drink from it. The sensual dimensions of water, it's taste, coolness and slight carbonation also shaped people's preferences for one pump or another. In Steven Johnson's book The Ghost Map, an entertaining account of Snow's work and battle to get it recognised (and excellent TED talk), further details of the Eley family, whose percussion-cap business was based at 37 Broad Street (above) also appear.
"Even emigres from Golden Square retained their taste for the Broad Street well. Susannah Eley, whose husband had founded the percussion-cap factory on Broad Street, moved to Hampstead after being widowed. But her sons would regularly fill a jug with Broad Street water and deliver it to her by cart. The Eley brothers also maintained two large tubs of well water for their employees during the work day. With temperatures reaching the mid-eighties in the shade on those late-August days and no wind to freshen the air, the collective thirst for cool well water must have been intense." (No page number)
While the addresses of those who appear on the parish burial records provide would have provided Snow with points that could have been plotted on a map, without his work walking the streets and talking to people, recognising the significance of the social and economic relations of those who lived in the streets around the Broad Street pump, cases would have been missed. Furthermore, vital counter examples such as the lack of deaths of those associated with the Brewery and relatively few at the Workhouse on Poland Street with their independent source of water would not have emerged. Yet Snow's struggle to get his interpretation of the data recognised, against a miasmatic framing of disease and the handle of the contaminated Broad Street pump permanently removed, is also indicative of contemporary struggles with government bodies to provide adequate infrastructures.
In his recent book 'Urbanising Cholera: The Social Determinants of Its Re-emergence' Rajib Dasgupta argues for a return to a more holistic approach to epidemiology, understanding how biological, environmental and behavioural factors are located within wider structures, in contemporary rapidly growing cities, like Delhi. He argues that diseases like cholera need to be approached as a complex phenomenon at the interface between biomedical, environmental, social and political domains. Water infrastructures too are at this interface, winding their way through present day cities, linking neighbours in unexpected ways, and fractures and disjunctions, as well as distrust between others. All of these factors need carefully tracing and understanding how they come together as a complex assemblage of relations, or in the case of disease as medical anthropologist Merill Singer might better put it, a syndemic.
More on the John Snow Bicentennary: http://vimeo.com/channels/johnsnow